Buy Bersa Thunder 380 Pistiol For Sale
The Thunder .380, Bersa's best selling model, offers numerous valued features – accuracy, reliability and versatility in a lightweight, compact design. It's easy to appreciate so much for so little. The Thunder .380 has earned a worldwide reputation of quality and is truly one of the best performance-for-price buys on the market. It's lightweight, small-frame and ideal capacity combines with Bersa's time-tested reliability and accuracy to make the Thunder .380 an excellent choice for personal protection.
Features:
Decocker for safer concealed carry
Integral locking system for the ultimate in safety
Combat style trigger guard accommodates gloves or two-handed grip
Extended finger rest
3-Dot sight system
Micro-polished bore with sharp, deep rifling for greater accuracy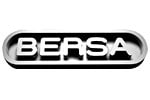 Specifications
Product Information bersa thunder 380
| | |
| --- | --- |
| Cartridge | 380 ACP |
| Action Type | Semi-Automatic |
| Capacity | 15+1 Round |
| Magazine Quantity | 1 |
| Weight | 20.5 Ounce |
| Overall Length | 6.6 Inches |
| Barrel Length | 3.5 Inches |
| Barrel Finish | Black |
| Threaded Muzzle | No |
| Compensated | No |
| Front Sight | Fixed |
| Rear Sight | Fixed |
| Slide Material | Steel |
| Slide Finish | Matte Black |
| Frame Material | Aluminum |
| Frame Finish | Matte Black |
| Grip Material | Synthetic |
| Grip Style | Checkered |
| Grip Color | Black |
| Trigger Type | Double/Single action |
Delivery Information
The Bersa Thunder 380 is a popular compact pistol that is designed for personal defense and concealed carry. It is a reliable and affordable option that is favored by many gun owners.
The Bersa Thunder 380 is chambered in .380 ACP and has a capacity of 7 rounds. It features a compact frame that is easy to conceal, and a 3.5-inch barrel that provides a balance of accuracy and portability. The pistol also features an alloy frame and a steel slide, which makes it lightweight and durable.
One of the key features of the Bersa Thunder 380 is its double-action/single-action (DA/SA) trigger. This provides a smooth and consistent trigger pull for the first shot, and a lighter and crisper trigger pull for subsequent shots. This makes the pistol easy to shoot and accurate.
The Bersa Thunder 380 also features a variety of other advanced features, including a loaded chamber indicator, which lets you know when there is a round in the chamber, and a safety decocker, which allows you to safely decock the pistol without having to pull the trigger. The pistol also has a fixed front sight and a rear sight that is adjustable for windage.
Overall, the Bersa Thunder 380 is a reliable and accurate pistol that is ideal for personal defense and concealed carry. Its compact size, DA/SA trigger, and advanced features make it a popular choice among gun owners. If you're in the market for a reliable and affordable pistol, the Bersa Thunder 380 is definitely worth considering. You can find the Bersa Thunder 380 and other firearms for sale on Handguns For Sale.
| | |
| --- | --- |
| | |
| Shipping Weight | 2.130 Pounds |