The HK45 was developed as a product improvement of the highly regarded USP45, first released in the 1995. The Caliber .45 ACP HK45 includes several user-inspired enhancements including changeable grip panels (backstraps), a Picatinny MIL-STD-1913 accessory rail, better ergonomics, and more ambidextrous controls.
Along with the HK45 Compact, the HK45 was developed as a possible candidate for the Joint Combat Pistol (JCP) and Combat Pistol (CP) programs administered by the U.S. military in their search for a new service handgun to replace the 9-millimeter M9. These programs were suspended before completion and no pistols were selected.
The HK45 uses an HK proprietary O-ring barrel for precise barrel-to-slide lockup and optimal accuracy. HK45 barrels are made using the famous HK cold-hammer forging process for superior performance.
Using HK's unique internal mechanical recoil reduction system reduces the recoil forces imparted to the weapon and shooter by as much as 30%, improving shooter control during rapid firing and increasing component service life. Capable of firing standard .45 ACP ball through +P ammunition, the HK45 combines the accuracy, modularity, reliability and minimum 20,000 round service life of the famed USP45 series with the improved ergonomics of the P2000 series pistols. HK45 models can be also be fitted with threaded barrels for use with muzzle mounted sound suppressors.
Each HK45 comes standard with an extra backstrap; medium and small interchangeable backstraps ensure an optimal fit for most shooter's hands and complement the ergonomic profile grip.
An improved USP-style control lever, a combination safety and decocking lever, is frame mounted on the HK45 and is quickly accessible. The HK45 control lever has a positive stop and returns to the "fire" position after decocking.
By using the modular approach to the internal components first pioneered by HK on the USP, the control lever function of the HK45 can be switched from the left to the right side of the pistol to accommodate left-handed shooters (additional parts required). Left and right mounted control levers provide safety and/or decocking functions as required and can be fitted to the pistol simply by changing parts. For true ambidextrous use, a control lever can also be mounted on both sides of the pistol if required.
Well-suited for personal defense use, the HK45 is available in, or can be converted to, a wide variety of variants that use different trigger firing modes, including double action/single action (DA/SA) and DAO (double action only). The DAO mode uses the unique Heckler & Koch LEM (Law Enforcement Modification) firing system for improved double action trigger pull.
Features
MIL-STD 1913 Picatinny Rail
Safety/Decocking Lever on the Left
Ambidextrous Mag Release
Adjustable Backstrap
Ergonomic Grip Profile
Dual Slide Release
O-Ring Barrel
Polygonal Rifling
Safety and/or Decocking
Contoured and Radiused Slide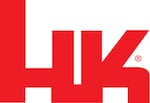 Made In Germany