Buy Hk45 Pistol For Sale
The HK45 was developed as a product improvement of the highly regarded USP45, first released in the 1995. The Caliber .45 ACP HK45 includes several user-inspired enhancements including changeable grip panels (backstraps), a Picatinny MIL-STD-1913 accessory rail, better ergonomics, and more ambidextrous controls.
Along with the HK45 Compact, the HK45 was developed as a possible candidate for the Joint Combat Pistol (JCP) and Combat Pistol (CP) programs administered by the U.S. military in their search for a new service handgun to replace the 9-millimeter M9. These programs were suspended before completion and no pistols were selected.
The HK45 uses an HK proprietary O-ring barrel for precise barrel-to-slide lockup and optimal accuracy. HK45 barrels are made using the famous HK cold-hammer forging process for superior performance.
Using HK's unique internal mechanical recoil reduction system reduces the recoil forces imparted to the weapon and shooter by as much as 30%, improving shooter control during rapid firing and increasing component service life. Capable of firing standard .45 ACP ball through +P ammunition, the HK45 combines the accuracy, modularity, reliability and minimum 20,000 round service life of the famed USP45 series with the improved ergonomics of the P2000 series pistols. HK45 models can be also be fitted with threaded barrels for use with muzzle mounted sound suppressors.
Each HK45 comes standard with an extra backstrap; medium and small interchangeable backstraps ensure an optimal fit for most shooter's hands and complement the ergonomic profile grip.
An improved USP-style control lever, a combination safety and decocking lever, is frame mounted on the HK45 and is quickly accessible. The HK45 control lever has a positive stop and returns to the "fire" position after decocking.
By using the modular approach to the internal components first pioneered by HK on the USP, the control lever function of the HK45 can be switched from the left to the right side of the pistol to accommodate left-handed shooters (additional parts required). Left and right mounted control levers provide safety and/or decocking functions as required and can be fitted to the pistol simply by changing parts. For true ambidextrous use, a control lever can also be mounted on both sides of the pistol if required.
Well-suited for personal defense use, the HK45 is available in, or can be converted to, a wide variety of variants that use different trigger firing modes, including double action/single action (DA/SA) and DAO (double action only). The DAO mode uses the unique Heckler & Koch LEM (Law Enforcement Modification) firing system for improved double action trigger pull.
Features
Integral MIL STD 1913 rail molded into the polymer frame dust cover for mounting lights, laser aimers, & other accessories
Ergonomic grip profiles with user replaceable grip panels
HK45 grip-to-slide angle matches Model 1911's profile
Two 10 round high-capacity metal magazines
Ambidextrous controls with dual slide releases & enlarged mag release
Uses proven modified Browning linkless recoil operating system
O-ring barrel for precise barrel-to-slide lockup
Polygonal rifling for longer barrel life & better accuracy
Improved ergonomic control levers
Low profile 3-dot fixed night sights
Contoured and radiused slide with forward slide grooves and anti-glare ribs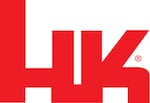 Specifications
Product Information hk45
| | |
| --- | --- |
| Cartridge | 45 ACP |
| Action Type | Semi-Automatic |
| Capacity | 10+1 Round |
| Magazine Quantity | 2 |
| Weight | 31.04 Ounce |
| Barrel Length | 4.46 Inches |
| Barrel Finish | Anodized Black |
| Threaded Muzzle | No |
| Compensated | No |
| Front Sight | White Dot |
| Rear Sight | White Dots |
| Slide Finish | Black |
| Frame Material | Polymer |
| Frame Finish | Black |
| Grip Material | Polymer |
| Grip Style | Finger Grooves |
| Grip Color | Black |
| Trigger Type | Double Action |
Delivery Information
The HK45 is a semi-automatic pistol that has been designed for military and law enforcement use, as well as for civilian self-defense. It is a high-quality firearm that offers exceptional accuracy, reliability, and versatility, making it an excellent choice for both novice and experienced shooters.
One of the standout features of the HK45 is its impressive construction. The pistol is made from high-quality materials and features a robust design that ensures durability and longevity. The slide and barrel of the pistol are made from high-carbon steel, which is known for its strength and resistance to wear and tear. The frame of the pistol is made from durable polymer, which is lightweight and comfortable to hold.
The HK45 also features a number of advanced features that make it an exceptional firearm. For example, the pistol is equipped with an ambidextrous slide release and magazine release, which makes it easy to operate for both left- and right-handed shooters. Additionally, the pistol features a Picatinny rail that allows you to attach a wide range of accessories, such as lights and lasers.
Another great feature of the HK45 is its trigger. The pistol features a smooth and consistent trigger pull, which makes it easy to shoot accurately. Additionally, the trigger has a short reset, which allows for faster follow-up shots.
The HK45 is also designed for easy customization. The pistol features a modular design that allows you to easily swap out components and accessories. For example, the pistol comes with a number of interchangeable grip panels that allow you to adjust the grip size to fit your hand. Additionally, the pistol features an ergonomic grip design that provides excellent control and comfort.
In terms of performance, the HK45 is a top-performing firearm. The pistol is very accurate and reliable, which makes it an excellent choice for military and law enforcement use, as well as for self-defense. The pistol also has a very manageable recoil, which makes it easy to shoot accurately and quickly.
Overall, the HK45 is an exceptional firearm that offers outstanding performance, durability, and versatility. Whether you are a novice or an experienced shooter, this pistol is a great choice for anyone who is looking for a high-quality firearm that is easy to use, customize, and maintain. If you are interested in purchasing the HK45, there are many reputable online retailers and gun stores that carry this pistol. With its impressive features and performance, it is no wonder that the HK45 is a popular choice among gun enthusiasts and professionals alike.
| | |
| --- | --- |
| | |
| Shipping Weight | 3.600 Pounds |