In 2003 the gunsmiths and engineers at Smith & Wesson wanted to deliver maximum power for serious handgun hunters. The power they sought required an entirely new frame, the massive "X-Frame," and was the basis for the new Model S&W500, the most powerful production revolver in the world.  This ushered in the era of the "big gun" and was only the beginning.   For ultimate power and velocity there's nothing even close to an X-Frame model handgun.
Features
Most powerful production revolver in the world today
Massive .500 S&W Magnum cartridge – 2600 ft/lb. muzzle energy
A hunting handgun for any game animal walking
4″ and 8.38″ Models come with 2 compensators; 1 for lead bullet and 1 for jacketed bullet ammunition
4″ Model comes with two muzzle brakes.  One for use with Jacketed Bullets and one for use with Lead Bullets.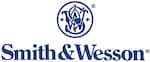 Made In United States of America
Specifications
Product Information
| | |
| --- | --- |
| Cartridge | 500 S&W Magnum |
| Action Type | Revolver |
| Capacity | 5 Round |
| Weight | 69.1 Ounce |
| Barrel Length | 8.38 Inches |
| Barrel Finish | Stainless |
| Frame Material | Stainless Steel |
| Frame Finish | Stainless |
| Country of Origin | United States of America |
| Trigger Type | Double/Single action |
Delivery Information
| | |
| --- | --- |
| | |
| Shipping Weight | 8.100 Pounds |