Designed for concealed carry, the M&P Shield Plus is the most advanced M&P Shield pistol to date, featuring a magazine capacity up to 13 rounds in a slim, micro-compact frame. Packed with popular features such as a flat-face trigger, optics cuts, and more, the M&P Shield Plus product line has been designed to meet the needs of today's firearm consumer.
The M&P Shield Plus features the hallmark 18-degree grip angle of the M&P pistol series for a natural point of aim, helping to better manage recoil and get back on target quickly. Standard M&P Shield Plus pistols include a variety of features, including a flat-face trigger, optimized grip texture designed for concealed carry, and two magazines.
Armornite finish is a hardened nitride finish that provides enhanced corrosion resistance, greatly improved wear resistance, decreased surface roughness, reduced light reflection and increased surface lubricity. Armornite is used on many S&W and M&P products imparting a high level of protection internally and externally where applied.
Features
Flat face trigger for consistent trigger finger placement that allows for more accurate and repeatable shooting.
Enhanced grip texture allows the user to manage recoil, keep a firm grip and delivers comfort when concealing.
Tactile and audible trigger reset.
Extremely thin and lightweight – can be comfortably carried all day.
M&P's patented take-down lever and sear deactivation systems all for disassembly without pulling the trigger.
Optimal 18-degree grip angle for natural point of aim.
Armornite durable corrosion resistant finish.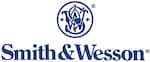 Made In United States of America